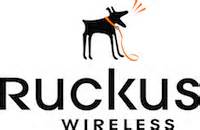 Project Description
The school needed an advanced wireless solution for their network. The solution had to be multi-tiered; capable of delivering high-speed, consistent video streaming to dedicated projectors and televisions while securely allowing students to access the school network and Internet. Covering three separate buildings, the solution also had to allow parents and guests access to the wireless network to connect to the Internet. Complicating everything were the thick cinderblock walls that are not conducive to WiFi technology.
If that wasn't challenging enough, the school has no dedicated IT professional on staff or on campus so the solution had to be self-managing and, if service was needed, capable of being supported remotely.
The solution was a Ruckus Zone director and 6 access points which provides 100% coverage across all buildings. How? Well, the engineers at Ruckus are sheer geniuses in constructing access points that litterally bounce beams off walls similar to angles played be racketball players. Couple that with strategic placement and proper implementation and the result is a well-crafted and remotely managed wireless environment handling over 160 devices daily.
Project Details
Customer
— St. Brendan School
Year
— 2011
Technology
Network Design
Hotspot / Walled Garden
Near Zero Admin
Visit Website